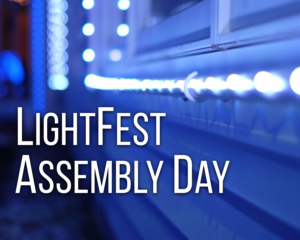 It takes a village! Help us set up for one of our marquis community events. You don't have to climb ladders to help out with this (but we'll take roof climbers too!) We need a variety of hands to do everything from putting up the lights to laying out wires. There's something to do for everyone.
We're asking volunteers to arrive at
9 am on Saturday, November 4th
. If you have a ladder or some general tools to bring, all the better! We're expecting to wrap up around 1 pm. And we'd love to have you join us for pizza afterward. Learn more or sign up
here
.