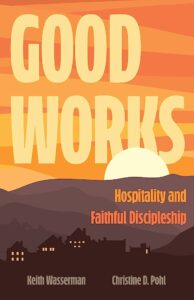 For the church and for the community don't have to be different things. This fall our life groups are going through a journey through Good Works: Hospitality and Faithful Discipleship.
For over forty years, the community of Good Works, Inc., has shared life with its neighbors in rural southeastern Ohio, a region with high poverty rates and remarkably resilient people. Offering friendship to those without a support network and shelter, care, and community to people without homes, those involved with Good Works have made it their mission to embody the gospel in innovative ways. What insights can be gleaned from Good Works, and how might these lessons be applied to our own communities and churches? 
Check out the session guides below for group goals and session questions.
Session Guides
VIDEOS
"Get to Know Good Works" – A 6 Minute Introduction to Good Works, Inc
"Growth in this Place" – A 12 Minute Introduction to the Mission of Good Works, Inc
"Work Retreats at Good Works" – A 4 Minute Feature of One of Good Works, Inc's Programs
Friday Night Life at Good Works – A 4 Minute Feature of One of Good Works, Inc's Programs
Book
Good Works: Hospitality and Faithful Discipleship by Keith Wasserman and Christine D. Pohl